Oba Erediauwa Donates Mascot For Festival Of Arts, Culture, Tourism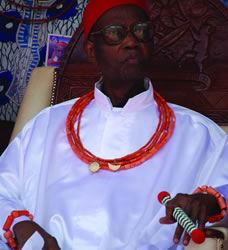 Benin, Edo, Nigeria – By Oladipo Airenakho.
Edo State Commissioner for Arts, culture and Tourism, Honorable Annena Jemitola disclosed to Journalists on Monday in Benin that the Oba of Benin Kingdom has donated a mascot for the first Edo State Festival of Arts, Culture and Tourism (EDOFEST) coming up between December 13 and 21, 2014.
The Commissioner made the disclosure while explaining why the event could not be held since the initial effort to organize it way back 2009.
According to her, the festival could not be held since 2009 because there was no adequate standard infrastructure in place to meet the demands of the event.
"The festival since 2009 could not be implemented because of the need for infrastructural improvement.''
Honorable Jemitola said, however that Edo State government has now given its approval for the event, adding that her ministry needed the cooperation and support of all to make it a success and boost tourist attraction.
The Commissioner also emphasized the need for corporate partnership and sponsors to sustain what she hoped will now be a yearly event, showcasing the rich culture of Edo people.