Rights Activist, Ugolor To Immortalize Mom On 80th Birthday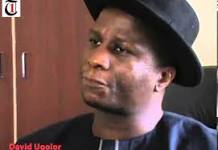 … Launches Agnes Ugolor Micro-credit Entrepreneur Center
By Alltimepost.com
Frontline Human and Environmental Rights Activist, Reverend David Ugolor will launch a new humanitarian initiative, known as Agnes Ugolor Micro-credit Entrepreneur Centre in honor of his mom, Madam Agnes Akora-Ugolor on her 80th birthday celebration slated for Saturday February 13, 2016.
The center will serve as an empowerment program for widows of Oghara in Delta State of Nigeria.
David Ugolor is the Executive Director of African Network for Environment and Economic Justice (ANEEJ).
A statement released by ANEEJ's Communications Manager, Mr. Bob MajiriOghene Etemiku in Benin on Friday, said the event will take place at Mrs. Ugolor's compound, opposite Central Baptist Church, Ugbewe, Oghara at 12:00noon.
According to the statement, Edo State Governor, Comrade Adams Oshiomhole will be the special guest of honor at the occasion.
The statement also said that a distinguished son of the Niger Delta/South-South and Executive Director of Centre for Leadership, Strategy & Development (Centre LSD), Dr. Otive Igbuzor will present a paper, titled: "Family governance as a tool for national development: the role of a mother at the occasion.
The statement also quoted Rev. Ugolor as saying: "Our mother taught us to be disciplined, resilient and to stand for justice. Everything we are today is a reflection of her exemplary life. We are in our mother's debt, particularly in the fact that she took up the gauntlet to raise us after the demise of our father."
There will be a Thanksgiving Service at the Central Baptist Church, 2, Duncan Street, Ugbewe Quarters, Oghara, Delta State on Sunday February 14, 2016 at 10:00 am, the statement said.
The statement further said that Members of staff of the Africa Network for Environment and Economic Justice (ANEEJ) heartily felicitate with Mama Agnes Akora-Ugolor on the occasion of her 80th birthday celebration.